Automotive Cleaners
ESTI CHEM products have a long history of application in automotive shampoos, degreasers and drying agents for automatic cleaning stations and manual DIY use. Many of our products can be applied eco-label products..
ESTISURF surfactants, a basic component in AUTOMOTIVE CLEANERS, cover a wide range of surface-active components enabling formulation of water-based, hydrocarbon-based or ester-based cleaners with ESTISOL solvents.

ESTISURF non-ionic surfactants are available in a wide range of HLB values and comprise fatty alcohol ethoxylates, polyglycol esters, and alkyl poly glucosides. The products have varying foaming, cleaning, wetting, and emulsification characteristics.
The ESTISURF range of anionics and amphoterics surfactants offers many functionalities such as hydrotropes, wetting agents, foam boosters, and cleaning surfactants for use in a wide range of AUTOMOTIVE CLEANERS even in wind screen cleaners.
Automotive Cleaners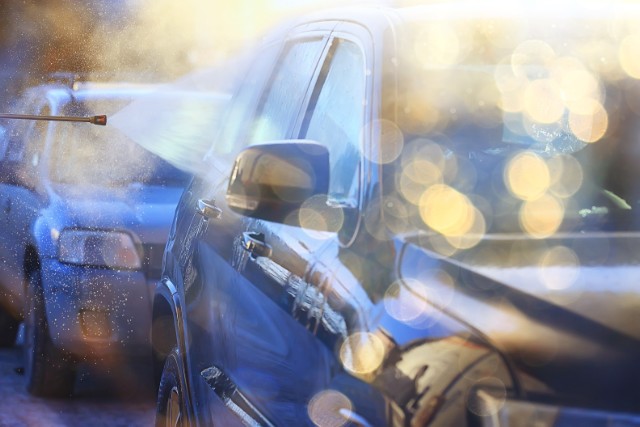 ESTISURF optimized surfactant packages provide a road to quick product development for any application within the field of shampoo and degreasers.
ESTISOL solvents are applied as hydrophobic film-formers in drying agents for the last step in the car wash process.
A very special group of ESTISURFS are the MICROEMULSION CONCENTRATES, which offer the best of cleaning from two worlds: solvent-based cleaner and alkaline cleaners in ONE product. MICROEMULSION TECHNOLOGY is key feature on Esti Chem´s technology platform. Such cleaners replace pure organic solvents or very-high alkaline cleaners. The MICROEMULSION CONCENTRATE works at pH 9-10 with outstanding cleaning power especially to remove bitumen spots.
ESTICLEAN AR-PLUS is ESTI CHEMs flag-ship for replacement of pure hydrocarbon solvents for bitumen spot cleaning. ESTICLEAN AR-PLUS is a water-in-oil microemulsions, which dissolves bitumen spots within a few seconds.