Replacement of solvents with a low flash point for industrial cleaning
Do you want to REMOVE this symbol from the label of your cleaning product?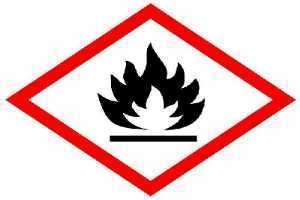 Esti Chem may have the SOLUTION that you are looking for!
ESTISOL is the formulator's preferred alternative to aliphatic and aromatic hydrocarbons, limonene/orange terpenes and VOC-classified oxygenated solvents in formulated chemicals products. ESTISOL reduces or eliminates the VOC content; they improve the product health & safety profile and ensure an environmentally sound product profile without compromising the technical performance.
ESTISOL can work as straight solvent replacements, solvency boosters, or carrier fluids in formulated products such as:
Industrial cleaners, degreasers, blanket & roller washes, printing inks, hand cleaners, paint strippers, cold cleaners and automotive rinse aid.

Cleaning solvents for removal of coating & polymeric residues such as adhesives, sealants and paints from blending vessels and equipment, tools, applicators, and packaging lines.



ESTISOL features:
Increases the flash point

Removes or reduces CLP contribution from solvent components in the formulation

Removes the aspiration hazard

Reduces the formulation odour

Reduces the risk when cleaning hot surfaces and by the use of a heated cleaning bath
Some ideas to look at for reformulation of your low-flash point solvent cleaners:
Solvent to be replaced:

Application

Esti Chem Solution

Esti Chem Product Feature

More information

Ethyl acetate

Cleaning of inks

ESTISOL 165

• No CLP label
• Evaporates overnight

ESTISOL 163 is an alternative when a mixture of ethyl acetate and ethanol shall be replaced

White spirit, D40 (or other low-flash point HC) hydrocarbon solvent

Degreasing of surfaces and metal workpieces

ESTISOL 163

• No CLP label
• Avoids aspiration risk label
• Evaporates overnight

ESTISOL 210 and ESTISOL 242 can be used for non-VOC applications, ESTISURF emulsifier may be added to obtain water-washable products

Cyclohexanone, PMAc, NMP, Butyrolactone and other polar solvents with high CLP labelling

Cleaning of inks, adhesives, polymer residues

ESTISOL 130
ESTISOL 135

• Bio-based solvents
• Very high solvency power
• Only labelled with
H315, H319

ESTISOL 130 and ESTISOL 135 may be combined with glycol ethers such as DPM and hydrocarbons such as D60 in order to fine-tune solvent properties
Use this link : ESTISOL